Trains in Italy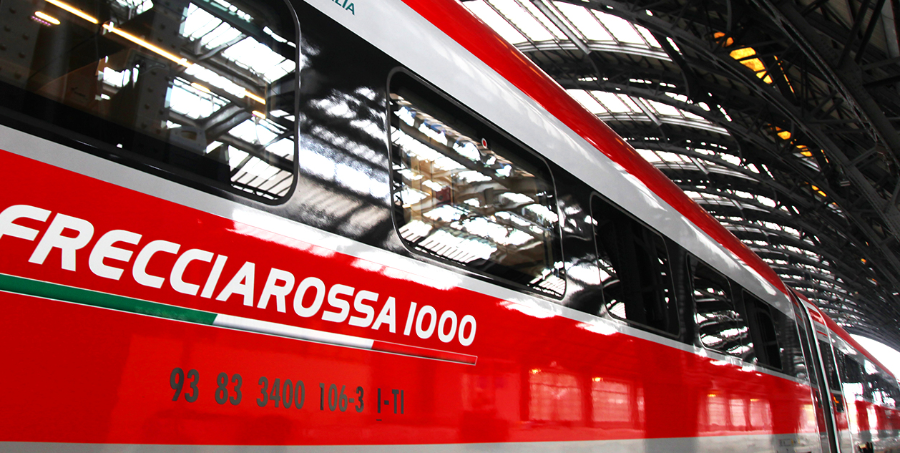 Trenitalia is the primary train operator in Italy. It's owned by Ferrovie dello Stato Italiane (FS), a government-owned holding company and was created in the year 2000.
Regional Trains in Italy
Italy's Regional (R) and Fast Regional (RV) trains operate frequent services across Italy, including to the island of Sicily (via train ferry) and on the island of Sardinia.
Faster InterCity (IC) trains connect major cities like Rome, Milan, Venice, and Florence.
There are also several private companies that operate regionally in conjunction with Trenitalia, including Trenord in Lombardy and Ferrovie Emilia Romagna in Emilia Romagna.
High-Speed Trains in Italy
Le Frecce trains (formerly known as Eurostar Italia) are Trenitalia's modern and comfortable high-speed trains that get you between all the popular Italian cities at up to 186mph (300kph).Trenitalia operates three Le Frecce high-speed trains.
Frecciarossa (FR) train are the the fastest, running on dedicated high-speed tracks.
Frecciargento (FA) trains are slightly slower because they sometimes uses non–high-speed tracks, but can connects to more cities.
Frecciabianca (FB) trains are the slowest in that they don't use high-speed tracks, but are still faster than regular trains and connect to even more cities while offering Le Frecce's superior comfort and amenities, like free WiFi.
There is also a private company, Nuovo Trasporto Viaggiatori, which runs competing high-speed.italo trains between Italy's major cities.
Night Trains in Italy
InterCity Notte trains travel between most major cities in Italy, even to Sicily via a train ferry across the Strait of Messina.
EuroNight (EN) trains also connect Italy with Austria, Germany, and Spain.
Thello night trains go between Paris and Italy.
Scenic Train Routes
There are two scenic train routes that cross into Italy: the Centovalli Railway from Locarno, Switzerland, to Domodossola, Italy; and the Bernina Express from Chur, Switzerland, up over the Alps and into Italy at Tirano, then along Lake Como before cutting back into Switzerland at Lugano.