Map of Italy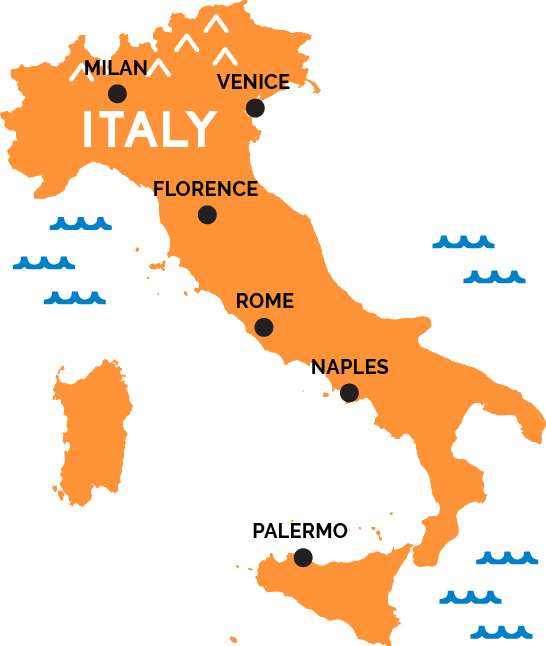 Rome—the Eternal City of Caesars and popes, ancient ruins and baroque churches, Renaissance paintings and splashing fountains—is Italy's capital, a major rail hub, and gateway to the south of Italy. Two hours south, Campania and the Bay of Naples beckons—the pizza of Naples, ancient Roman ghost towns of Pompeii and Herculaneum, and the Amalfi Coast and fabled island of Capri. Italy is shaped like a boot, and its stiletto heel is Apulia (Puglia), a land of ancient traditions and strong wines where ferries to Greece leave from the major ports of Bari and Brindisi.
North of Rome lies the neighboring postcard regions of Umbria—pilgrims and art lovers flock to Assisi—and Tuscany, home to countless medieval hilltowns, Chianti vineyards, the leaning tower of Pisa, Gothic Siena, and Florence, cradle of the Renaissance, where Botticelli painted his Venus and Michelangelo carved his David.
Across the Apennines lie the univeristy city of Bologna and Byzantine capital of Ravenna, introducing Northern Italy. Italy; wide, varied north stretches from the Italian Riviera by the western border with France, across the Alps and industrial powerhouse of Turin, the Lake District of Lombardy and economic capital Milan (another major rail hub; also, home to Da Vinci's Last Supper), the ski mountains of the Dolomites and Veneto villas of Vicenza and Verona, where Shakespeare set Romeo and Juliet, all the way to the the Adriatic and the spectacular Serenissima, Venice, an impossible city Gothic palazzi laced with canals. Italy also features the Mediterranean's two largest islands, Sicily in the south and Sardegna off the west coast—both with their own amazing and distinct cultures.