Trains in Germany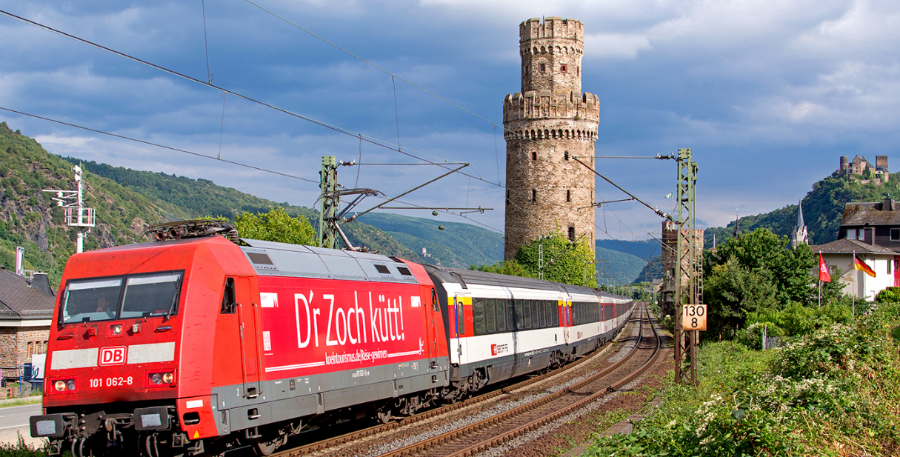 Deutsche Bahn, or German Railway (DB), is Germany's railway company. A private joint-stock company, its single shareholder is the Federal Republic of Germany and it is the largest railway operator and infrastructure owner in Europe. It came into existence in 1994 as the successor to the former state railways of Germany, the Deutsche Bundesbahn, and is headquartered in Berlin.
Regional and InterCity Trains in Germany
Regional Express (RE) and Interregio-Express (IRE) trains connect larger cities with regional destinations and make frequent stops—though not as many as the slow Regionalbahn (RB) trains, which link all local towns.
S-Bahn (suburban commuter trains) are the networks of trains that operate within the greater urban areas of most big cities, including Berlin and Munich.
InterCity (IC) train operate domestically—EuroCity (EC) trains both domestically and internationally—between the big cities of Germany at speeds of up to 124 mph (200 kph).
Domestic High-Speed Trains in Germany
InterCity Express (ICE) trains are the most popular trains in Germany and connect major cities. They travel at top speeds of up to 200 mph (320 kph).
ICE Sprinter trains are the newest brand of extra-fast ICE trains, connecting Germany's main cities: Berlin, Frankfurt, Hamburg, Cologne and Düsseldorf, with no stops in between. These trains are aimed at business travelers and run during the busiest periods at the start and end of the working day.
ICE T are titling versions of the ICE trains, and can operate on tracks not specially built for the regular ICE trains, cutting travel time to secondary cities.
International High-Speed Trains in Germany
Many high-speed ICE trains connect Germany with most nearby countries, as do the high-speed services of its neighbors, including RailJet (Austria, and on to the Czech Republic and Hungary), TGV(France), and Thalys (Belgium).  
Night Trains in Germany
City Night Line (CNL) and its partners connect major German cities with overnight trains, as well as Germany to major cities in pretty much every surrounding or nearby nation, including Austria, Croatia, the Czech Republic, Denmark, Hungary, Italy, The Netherlands, Poland, Slovakia, Slovenia, and Switzerland.
Scenic Train Routes
DB also runs two historic scenic train routes in Germany — the Black Forest Line, which connects Offenburg to Meersburg (Bodensee) Konstanz, and the Rhine Valley Line, which runs from Bonn to Koblenz to Mainz.