Map of Germany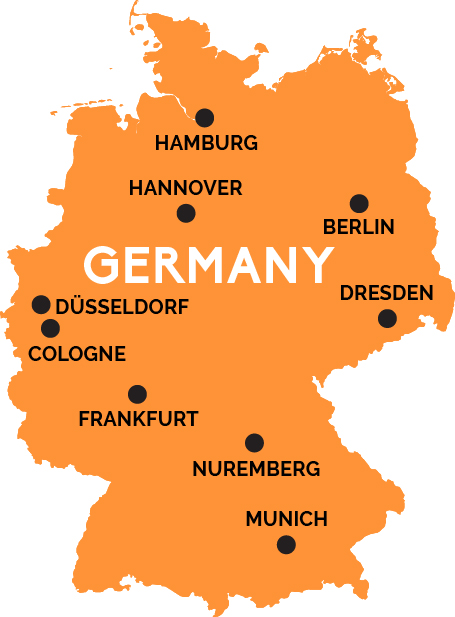 This economic powerhouse mixes industrial might with castle-guarded rivers, medieval towns with Europe's hippest party scene, fairytale landscapes with bustling cities spiked by glorious cathedral spires. Germany sits at the heart of Europe, connected to every surrounding country by direct, high-speed train—and most cities in the rest of Europe with, at most, one train change.
All the major cities are interconnected by high-speed rail: Berlin, Frankfurt, Cologne, Düsseldorf, Hamburg, Munich, Nuremberg, Dresden, Hannover, Stuttgart, Bremen, and more. Berlin—pulsating with a renowned party scene, spectacular museums, and the energy of the New Europe—dominates the regions of the former East Germany near Poland (though the Saxon cities of Dresden and musical Leipzig are also worthwhile).
To the south, Munich is the capital of Bavaria, the über-German land of half-timbered villages, oompah bands, and liter-sized beer mugs rising to the Alps along the Austrian border. The Rhine River flows north from Lake Constance at the Swiss border, dividing Black Forest from France, then past fairytale castles, the cathedrals of Cologne and Bonn, and the transport hub of Frankfurt. Dominating the north, on the banks of the Elbe River near the North Sea, the medieval Hanseatic capital of Hamburg is Europe's second largest port.