Trains in Switzerland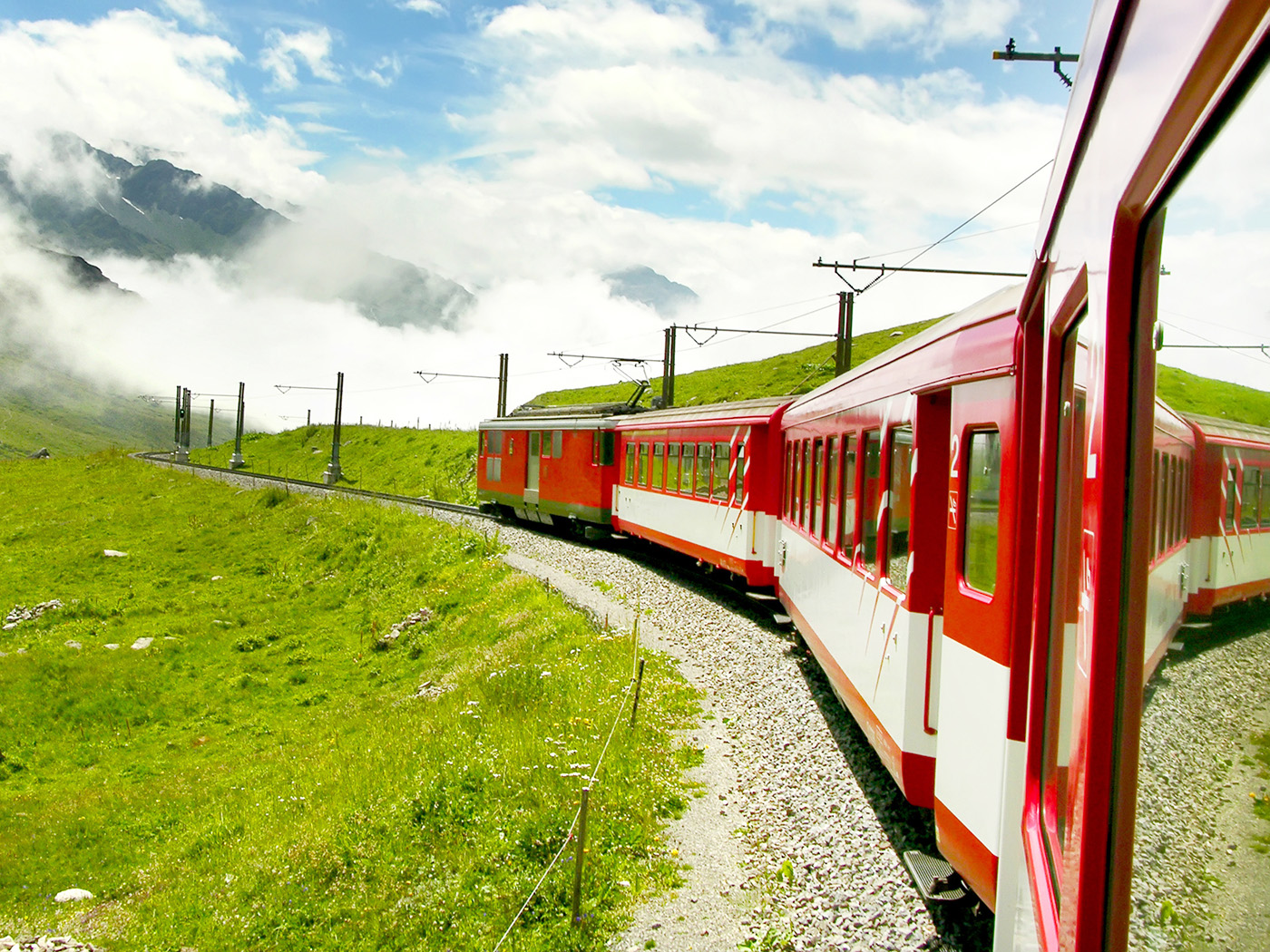 Among the most scenic countries in the world, Switzerland is a must-see for any rail, nature, or winter sporting enthusiast. The state-run rail company is the Schweizerische BundesBahn, or Swiss Federal Railways (SBB), with its headquarters in Bern. In this polyglot nation, the SBB is sometimes called by the French (CFF) or Italian (FFS) versions of its acronym. Founded in 1902 and formerly a government institution, since 1999 it has been a special stock corporation with all shares held by either Switzerland or its member states.
Regional Trains in Switzerland
Among the train types in Switzerland, InterCity (IC) trains link the larger cities such as Geneva and Basil. InterRegio (IR) trains perform the same function as the InterCity trains but make more stops along the way between the larger cities.
More local services are provided by RegioExpress (REX) and Regio (R) trains which connect the larger cities like Geneva to smaller towns around the country and stop at most stations.
The S-Bahn is an urban light-rail system in the major cities of Switzerland.
There are also numerous private scenic lines—more than three dozen—largely through the mountainous landscapes of the Alps. Rail passes are valid on the majority of them, and garner a discount on the rest.
High-Speed Trains in Switzerland
There are a plethora of high-speed train options that run throughout and out of Switzerland. 
They include the ICE which connects to Germany and the Netherlands as well as the Railjet (RJ) which connects Zurich to Vienna. The EuroCity (EC) connects Zurich, Geneva, and Basel to Milan, Italy, while the TGVdoes the same to Paris, France.
Night Trains in Switzerland
Night trains are very easy to use in Switzerland; most leave out of Zurich. City Night Line (CNL) trains go to Amsterdam, Berlin, Hamburg, and Prague. EuroNight (EN) trains go to Graz and Vienna in Austria and Budapest in Hungary. D-Trains go to Villach, Ljubljana, Zagreb, and Belgrade.
Reservations on Trains in Switzerland
Reservations for the SBB regional trains are not required, though recommended during the busier summer months.
Reservations are required for night trains and high-speed international trains.