Map of Turkey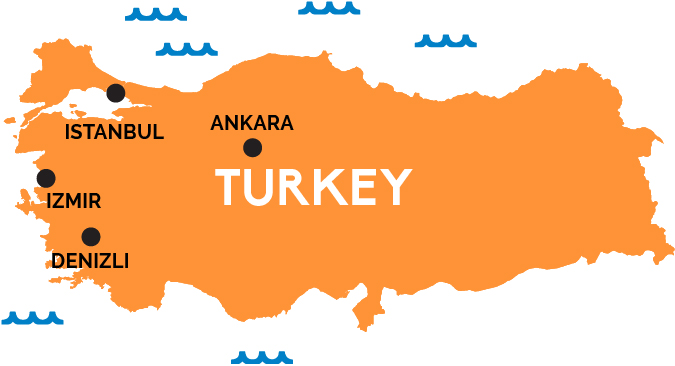 This country spread across two continents offers glorious mosques, Biblical sites, ancient ruins, bustling bazaars, and an amazing Mediterranean coast to explore.
Turkey is literally where east meets west, an 800km (500 mile) wide land bridge connecting Europe to Asia, flanked by the Black Sea to the north the Mediterranean Sea to the south, and the Aegean Sea to the west, and extending east well into the Caucasus and Middle Eastern regions. Only the westernmost three percent of Turkey actually lies in Europe; the bulk of Turkey consists of Anatolia, on the Asian side across the Sea of Marmara (and the Bosphorus strait connecting it to the Black Sea).
European Turkey (East Thrace) borders Greece and Bulgaria, and is home to the most famous parts of Turkey's greatest city of Istanbul—though Istanbul also extends across the Bosphorus to the Anatolia side, the world's only major city to straddle two continents. Izmir (known in antiquity—and, in the West, all the way until 1928—as "Smyrna") is a major city and rail hub on the western, Aegean Sea shore of Anatolia. Izmir is the capital of a province with many famous destinations, including ancient sites at Pergamon (Bergama) and at Ephesus, outside Selçuk (which has the home of the Virgin Mary). Inland from Izmir, in southwestern Turkey, Denizli is gateway to the famous Pamukkale hot springs.
Fewer venture to central Turkey and its capital, Ankara, which is the main hub for trains throughout central Anatolia and on east into the Armenian Highlands of Eastern Anatolia, which stretches from Georgia down past Armenia to the heights of the famed Biblical Mount Ararat, just inside Turkey where the borders of Armenia and Iran meet, Turkey's eastern border then descends into Upper Mesopotamia by Iran and the Tigres and Euphrates Valley that flows into Iraq. Much of southeastern Anatolia—along Turkey's eastern borders with Iran and Iraq and southern border with Syria—is culturally and historically part of Northern Kurdistan.