Map of The Netherlands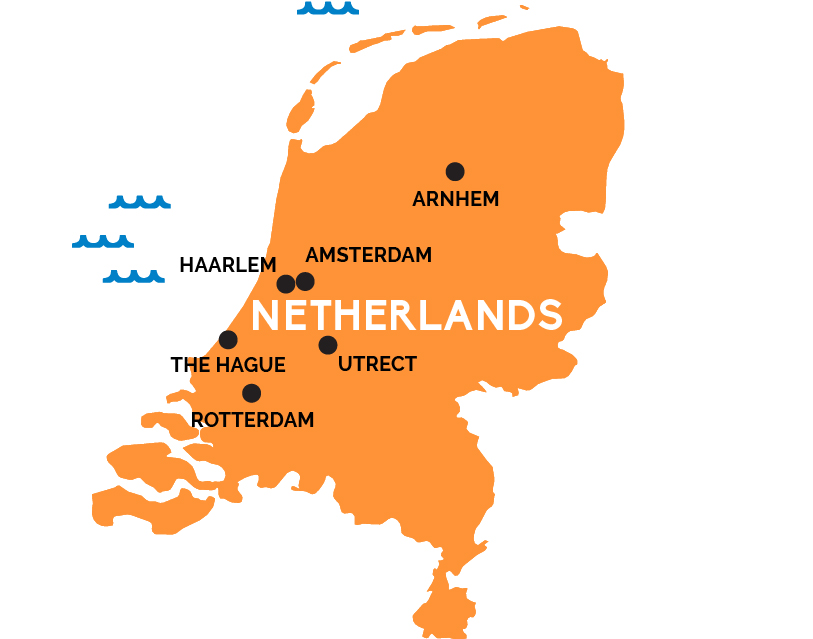 This nation of windmills and cheese, Rembrandt and Van Gogh was one of the world's first great global trading powers, a 17th century empire underpinned by, or all things, tulip bulbs.
Nederland literally means "low country," an apt description of this overwhelmingly flat nation wedged between the North Sea, Belgium (to the southwest), and Germany (to the southeast). Nearly 17% of the landmass was reclaimed from the sea by Dutch dikes, canals, and windmill-driven pumps—about a quarter of the country lies below sea level, another half within three feet of sea level, and the highest hill only reaches 321m (1,053 feet). That said, there is variety: From the North Sea dunes of Friesland in the north, to the forests around Arnhem and the Hoge Veluwe National Park in the east, to the hills of the southern Limburg region, home to Maastricht. Much of the action, though, is nearer the coast in the combined delta of the Rhine and Meuse Rivers, in the provinces that lend this nation its nickname: North Holland and South Holland.
North Holland has the capital, Amsterdam—city of townhouse-lined canals and grand art museums, of Anne Frank and the Red Light District—and its quieter neighbor, Haarlem, as well as the cheese market of Alkmaar and windmills of Zaanse Schans. South Holland is the heart of tulip country—especially around Lieden—known for Rotterdam, the world's largest port; the ceramics capital of Delft; and the university city and cultural capital of Utrecht (plus more windmills at Kinderdijk).