Map of Sweden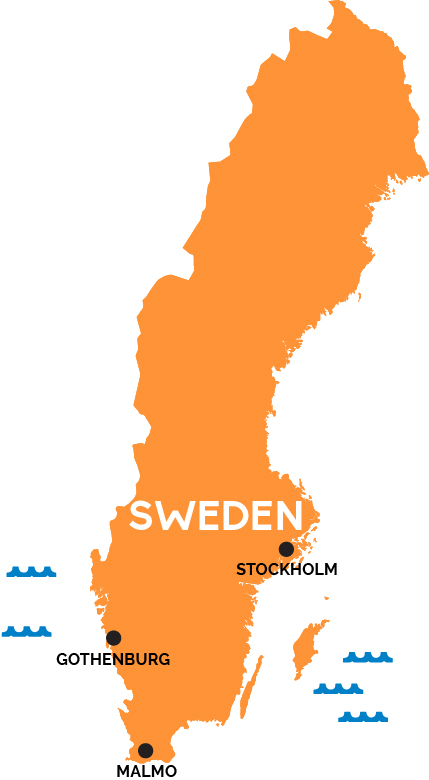 The Land of the Midnight Sun is a gorgeous country of lakes, forests, and a friendly people who enjoy a high quality of life and a culture that mixes the sensible and the fun.
Sweden is a long skinny nation on the Eastern Scandinavian Peninsula but at the center of Scandinavia, bordered on its west by Norway (across the Skanderna mountains), its northeast by Finland (though most of FInland lies east of Sweden, across the Gulf of Bothnia), and connected to Denmark by a bridge and tunnel from Copenhagen that emerges near Malmö, at Sweden's southernmost tip on the Baltic Sea.
Sweden's capital, Stockholm, is a lovely Old World–meets–modern city spread across more than a dozen islands on an inlet about a third of the way up the country's eastern shoreline. There are frequent train connections from Stockholm to Gothenburg, Sweden's second city on the west coast, as well as to Oslo in Norway and, via Malmö, Copenhagen in Denmark. Southern Sweden is all forests spotted with lakes and pretty Renaissance and Hanseatic towns along the coast and nearby islands. The northernmost fifteen percent of Sweden lies above the Arctic Circle, the rugged Lapland region of the Sámi people.