Map of Serbia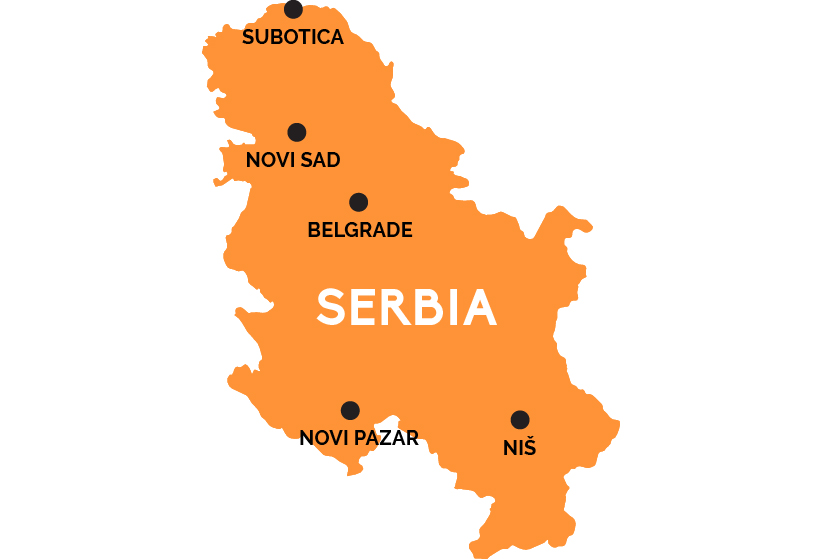 This once war-torn land is the largest of the former Yugoslav Republics, where the Hungarian-heritage north and Turkish-inflected south meld into a proud Slavic Serbian homeland.
The capital of Serbia is Belgrade (Beograd), a strange mix of modern and Art Nouveau sprinkled with Orthodox churches on the Danube River. Belgrade is the party capital of the Balkans, and the country's main rail hub, with direction connections to the main cities in the surrounding nations: Sarajevo (Bosnia), Zagreb (Croatia), Ljubljana (Slovenia), Podgorica (Montenegro), Budapest (Hungary), Bucharest (Romania), and Sofia (Bulgaria).
The northern third of Serbia is actually part of the Great Hungarian Pannonian Plain, and Hungarian influence is obvious in the old center of Novi Sad, Serbia's second city, and in the Secessionist buildings of Subotica, by the northern border with Hungary. There's a more Ottoman Turkish feel to southern Serbia, from the University city of Niš on the rail line to Sofia, Bulgaria, in the southeast, to the town of Novi Pazar, in the mountains just before you get to Kosovo—a disputed area occupying the southwesternmost portion of what Serbia still considers "Serbia" (though most of the world now recognizes Kosovo an independent nation).