Map of Romania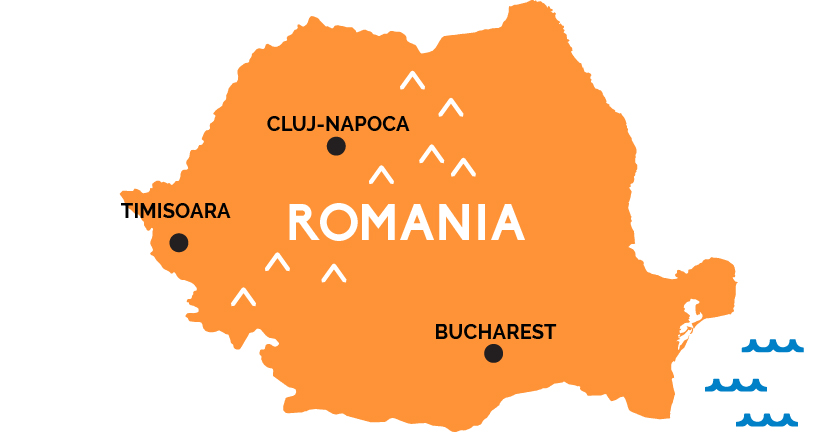 From the shores of the Black Sea to the forested Carpathian Mountains of Transylvania, the largest nation in southeastern Europe retains much of that Old World air while bustling to modernize in the post-Communist era.
Romania stretches between Ukraine to the north and Bulgaria to the south (beyond the Danube River), and from Hungary in the west to the shores of the Black Sea in the east. Few visitors stick around for long in Romania's capital, Bucharest, in the Great Romanian Plains of Wallachia that forms Romania's southern third—though you will like go through there, as it's the country's main rail hub, connected to neighboring capitals like Budapest (Hungary) to the northeast, Belgrade (Serbia) to the east, and Sofia (Bulgaria) to the south.
Fewer still explore the forest towns of the medieval kingdom of Moldavia, by the northeastern Moldovan border. Most make for the mighty Carpathian Mountains, driving southeast from the northern border with Ukraine through the heart of Romania before suddenly hooking west to run above the Romanian Plain. This is the ancient Thracian Kingdom of Dacia, known today as Transylvania, its forests laced with hiking trails, studded with castles and fortified villages, and—of course—continuing to live large on the legends of Vlad Țepeș, a local medieval prince and the inspiration for Count Dracula (the castle that surely isn't his but everybody visits anyway is called Bran, outside Brașov).