Map of Portugal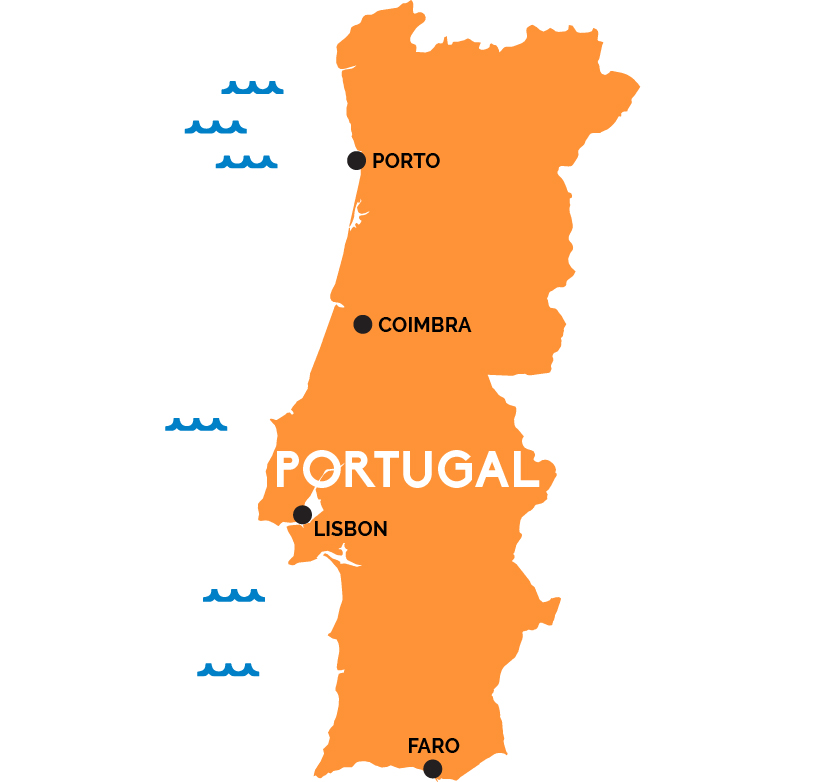 This slip of an Iberian nation, filled with memories of mighty explorers and Arab influences, offers a Mediterranean lifestyle from the sun-drenched beaches of the Algarve to the vineyards of the Duoro Valley.
Clinging to the edge of the Iberian peninsula, sandwiched between Spain and the wild Atlantic Ocean, Portugal is the westernmost nation of mainland Europe. The Tagus river slices it into north and south, emptying into the Atlantic at the capital, Lisbon, a tangle of medieval streets with a lively arts and cafe scene.
North of Lisbon, past the walled city of Óbidos, famed shrine at Fátima, and Arab-styled streets of university city Coimbra, lies Porto, Portugal's second city, set at the outlet of the Duoro River. The Duoro flows down from increasingly rugged mountains leading up to the Spanish border, its riverbanks forming the heart of Portugal's premier wine country. The main northern rail line ends at the pretty city of Braga in the foothills, the base for exploring the interior of Northern Portugal.
South of Lisbon, rolling plains give way to the beaches of the southern Algarve coast that spills to either side of the southern town of Faro. Far out in the Atlantic are two archipelagos of islands—the Azores and Madeira—which are also Portuguese.