Map of Poland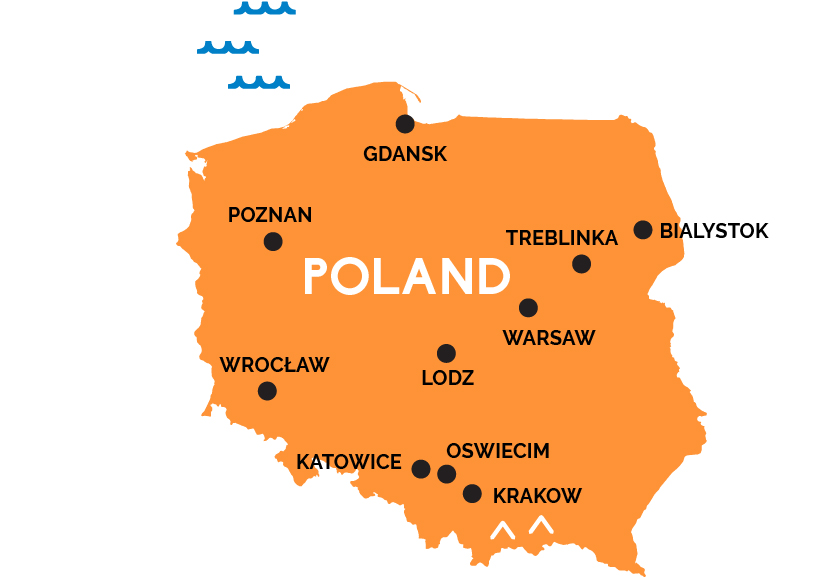 A history of being conquered repeatedly by either its Prussian/German or Russian neighbors has left this massive Slavic nation by the Baltic with a rich cultural mix and proud heritage of survival despite it all.
Although the restored baroque old town of Warsaw is pretty—and Warsaw is the main train hub for the nation—Poland is one of those countries where the capital is not the most interesting city for visitors. That honor goes to Poland's medieval capital, the university city of Kraków to the southeast, filled with well-preserved buildings, churches, a central marketplace, and Jewish sights.
The largest city on the northern Baltic coast is Gdansk, a restored 17th century Hanseatic port city where both World War II and the Solidarity movement of 1989 were launched. Poznan is a lovely restored medieval city on the Berlin-Warsaw train line in Silesia, the western Polish region heavily influenced by Germany. Another Salisian rail hub, in the southwest, is Wrocław, filled with Flemish and Germanic-style houses and churches.
Many visitors also want to pay tribute to the notorious concentration camps built here by the Nazis—especially Auschwitz-Birkenau (in the town of Oswiecim, between Krakow and Katowice, a train changing station on the line to Prague) and Treblinka (northeast of Warsaw, on the way to Bialystock, which is near Poland's eastern, Belarussian border). Further south, by the Slovak and Ukraine borders, rise the gorgeous Tatra Mountains.