Map of Norway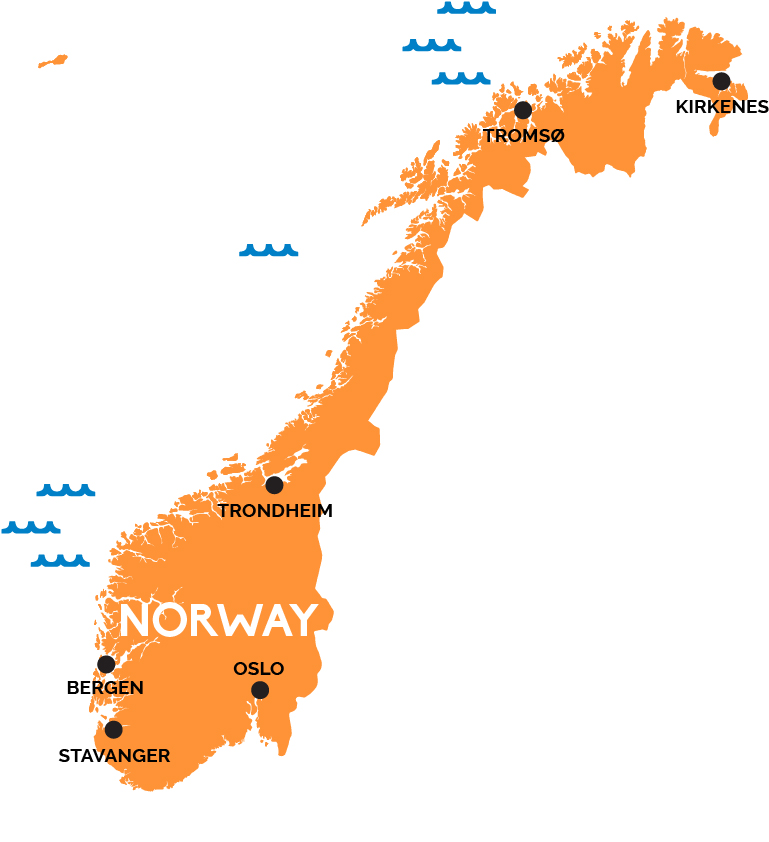 This laid-back Scandinavian nation of Fjords and Northern Lights may hand out the Nobel Peace Prize now, but in its Dark Ages heyday Norway was home to the raiding, exploring, colonizing Vikings.
Norway's capital Oslo—the best place to explore Norway's exploration-minded past of Vikings, Amundsen, and Thor Heyerdahl—is tucked safely away into a nook in the southeast corner of this long, narrow Scandinavian nation. Oslo sits at the head of a broad fjord dotted with dozens of islands, close to the start of Norway's long border with its eastern neighbor, Sweden.
Norway's geography is defined by its impossibly crinkly western coast of islands, deep-cleft fjords, and scenic railroads leading inland. This coastal cruiser's paradise stretches from the southwestern town of Stavanger, past the pretty Hanseatic burg of Bergen—Norway's second city, and former capital—and Trondheim with its massive gothic cathedral on the central coast. It continues north past increasingly smaller towns and villages and uninhabited wilderness, beyond the Arctic Circle, to Tromsø and—eventually, passing along the north edge of Finland—the town of Kirkenes right by the border with Russia. Norway also administers Svalbard and the other islands of the Spitsbergen Archipelago so far to the north they are closer to the North Pole than to Oslo.