Map of Ireland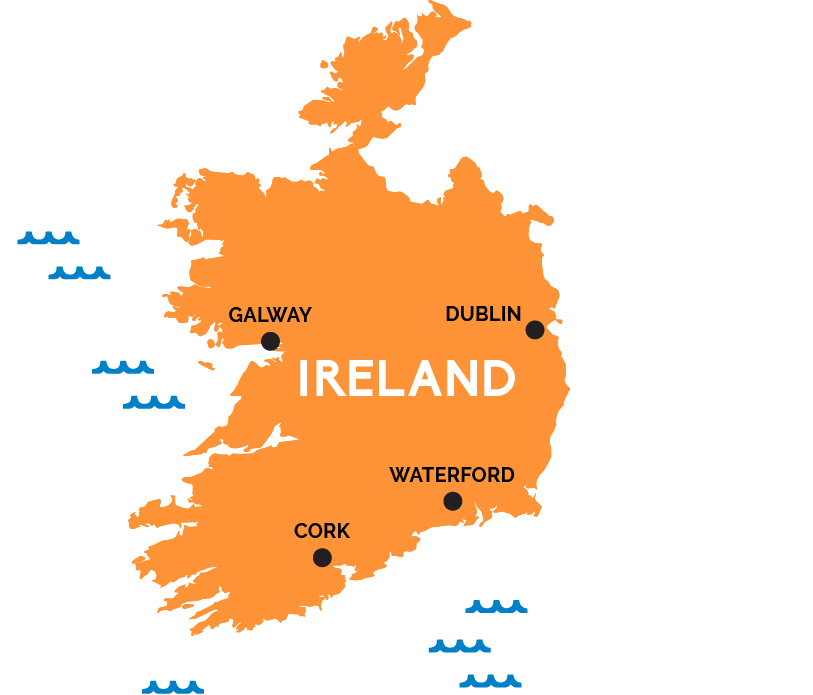 A land of grand literature and earthy whiskey, green pastures and Georgian cities, crumbling castles and Celtic music enjoyed with a pint of Guinness by the peat fire of a traditional pub.
The cheery city of Dublin on the east coast—with its pubs, museums, literary history, and the Book of Kells at Trinity—is Ireland's capital, main rail hub, and port for most ferries from the UK and France (Rosslare, outside Wexford on the southeast coast, is another port for France and Wales ferries).
The southwest of Ireland—Counties Cork and Kerry, particularly Kerry's famed Ring of Kerry and Dingle Peninsula—is that postcard Irish countryside you can to see: impossibly scenic green fields dotted with sheep and prehistoric ruins tumbling down slopes to a rugged Atlantic coastline peppered with fishing villages. Just north of Kerry, County Clare is renowned for its traditional Celtic music culture, beautifully stark Burren landscapes, and mighty Cliffs of Moher plunging into the sea.
Galway, unofficial capital of the west coast, is a lively university city and the gateway to the Aran Islands and Connemara National Park. County Donegal is tweed country, the wild northwest of the Republic of Ireland. The northeast quadrant of the island is actually an entirely separate country called Northern Ireland, part of the U.K. (though, aside from using pounds instead of euros and the appearance of Protestant churches alongside Catholic ones, you won't notice much difference). Northern Ireland's capital is bustling Belfast, and it has more spectacular scenery along the northern County Antrim coast.