Map of France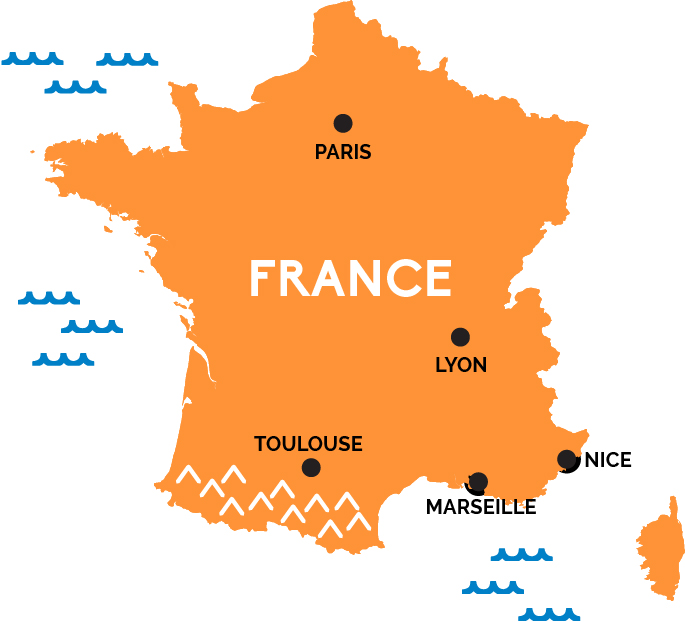 From the lights of Paris to the vineyards of Provence, the beaches at Normandy to the highest peak in the Alps, France's mix of gothic cathedrals, Impressionist painters, medieval villages, postcard countryside, and spectacular cuisine help make it the the world's most popular country.
The capital of France is Paris, a city of superlatives and icons like the Eiffel Tower, Mona Lisa's smile at the Louvre, and the towers of Notre Dame cathedral. In addition to being a world capital of art, cuisine, museums, architecture, and romance, Paris has direct, high-speed rail connections with pretty much all of Western Europe—including, thanks to the Eurostar through the Channel Tunnel, London in just two and a half hours. France itself is crisscrossed by high-speed rail lines.
You can hop a TGV train in Paris and in two hours be in Lyon and the Rhône Valley (or rocket west through the chateaux-strewn Loire Valley to Nantes); head southwest, and in three hours you could be in the wine country of Bordeaux near the Atlantic. Prefer the sunny south of France by the Mediterranean Sea? In less than three-and-a-half hours you can be in the port city of Marseille, gateway to the villages of Provence so beloved by Impressionist painters. In five-and-a-half hours you can be in Nice on the French Riviera, sunning yourself at a resort town on the fabled Côte d'Azur.