Map of Croatia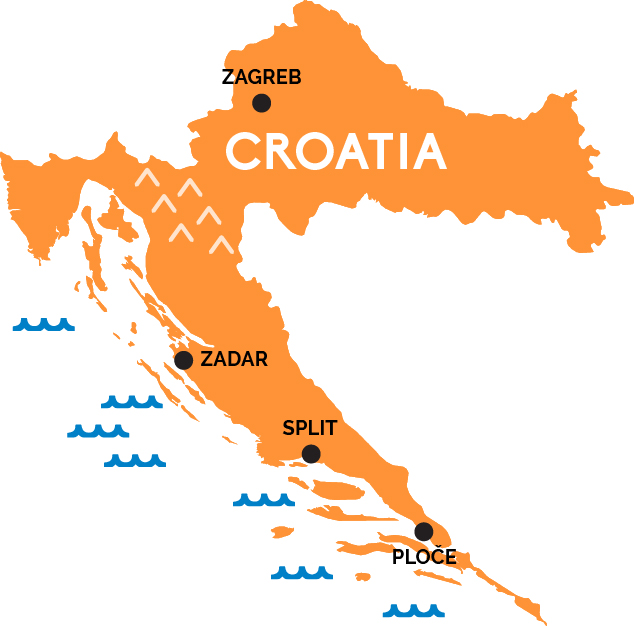 Slavic spices and Italian sensibilities strung along an Adriatic coastline of a thousand islands, Roman ruins, medieval towns, and fishing villages.
Croatia's modern capital, Zagreb, remains the rail hub of this sickle-shaped nation, offering train connections to the capitals of its neighbors and fellow former-Yugoslav nations, including Ljubljana, Sarajevo, and Belgrade, as well as direct connections to Munich, Budapest, and Villach (Austria). Domestically, high-speed tilting trains run east from Zagreb to Osijek and west to Rijeka, gateway to the northern Istrian peninsula, which is something like a Slavic version of Italy—all hill towns and fishing villages, medieval frescoes and Roman ruins. (You can also get to Rijeka directly from Ljubljana, or from Trieste, Italy, with a change in Pivka, Slovenia.)
The main rail line in Croatia runs from Zagreb down to the Dalmatian coast at Zadar and, eventually, Split, a medieval town carved from the ancient remains of the Roman Emperor Diocletian's palace. Ferries take over to get to the most popular coastal Croatian islands—including Hvar, Brac, and Korcula (which claims to be the birthplace of Marco Polo), as well to cover the southern Croatian coast (interrupted by a 20-kilometer stretch of Bosnian coastline), with boats and buses running all the way down to the red roofs of Dubrovnik, the Pearl of the Adriatic and once a maritime Republic to rival Venice.