Map of Bosnia-Herzegovina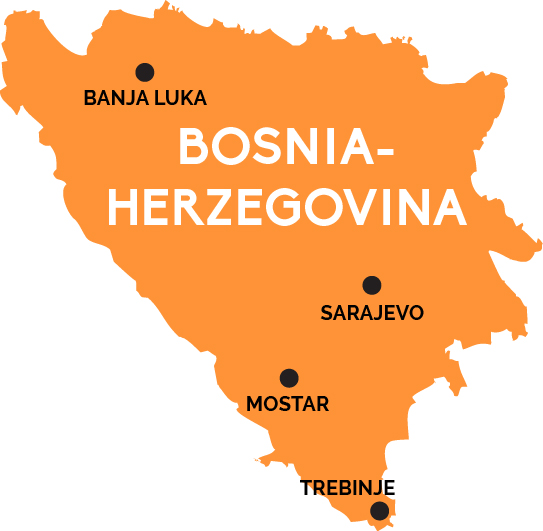 The modern nation at the heart of the 1990s breakup of Yugoslavia remains the best place to experience all three of the Balkan region's rich cultures
Bosnia and Herzegovina is, in many ways, the heartland of the Balkans—and why the 1990s war raged so fiercely here between Bosniak Muslims, Orthodox Serbs, and Catholic Croats. Nowhere is this more evident than in the battered capital of Sarajevo, with its Ottoman-era city center surrounded by Austro-Hungarian buildings.
Sarajevo is also Bosnia's main railway hub, with trains coming in from Zagreb (Croatia), and connections on to medieval Mostar in the south. Sadly, recent railway cuts in Croatia—which wraps around two-thirds of Bosnia's borders—means train service between Sarajevo and Budapest or Belgrade has been suspended, as has onward travel from Mostar to Ploče on the Croatian coast. For the record, "Herzegovina" is a vaguely defined historical subregion of Bosnia with no current political boundaries. Confusing the matter further: There actually is a pair of semi-autonomous regions within Bosnia collectively called "Republika Srpska."
This vast, oddly shaped, majority Serb region(s) covers much of the country's northern and eastern borders—yet is little-visited by tourists, save perhaps for Banja Luka in the north—the main rail hub for Republika Srpska Railways (ŽRS)—or the medieval town of Trebinje, wedged into the very south between Montenegro and the Croatian coast.