Map of Belgium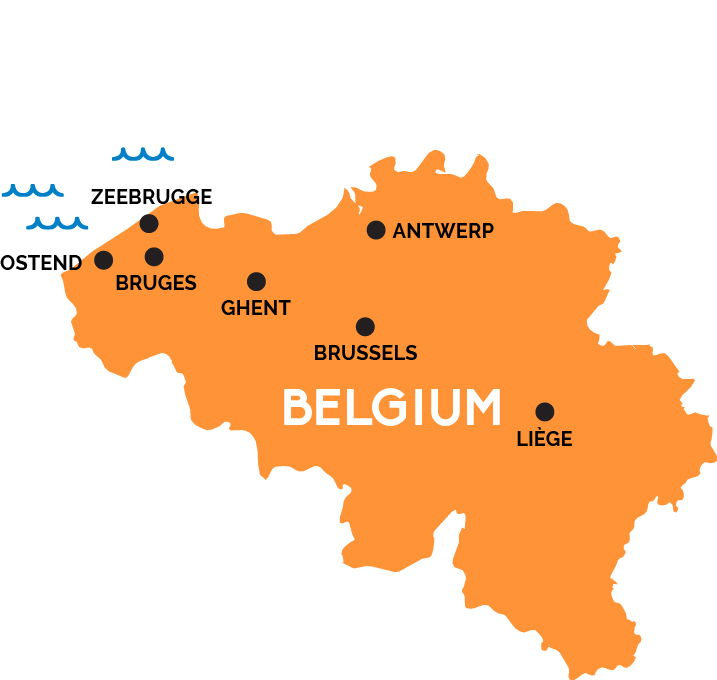 A mid-sized member of the Low Countries straddling the Germanic and Romance-language sides of Europe, home to French fries and Flemish painters, EU democracy and Trappist ales.
Tiny Belgium is divided between the low, Dutch-speaking flatlands of the Flanders region in the north and the forested hills of the French-speaking Wallonia region in the south. The national capital of Brussels, where modern functional meets 17th century and Art Nouveau, is also home to the EU's executive and legislative branches (as well as the headquarters of NATO)—and to the Brussels Midi/Zuid train station, the main Continental hub for the superfast Eurostar trains connecting Europe's major cities.
The lovely medieval city of Ghent is capital of East Flanders with a direct rail connection to the Brussels airport and links throughout Belgium and into France. Postcard-pretty Bruges is the Venice of the Low Countries, laced with canals and located on the (rail)road to the North Sea ports of Ostend and Zeebrugge for ferries to the U.K. Gorgeous 16th and 17th century houses define the city of Antwerp by Belgium's northern border with the Netherlands.
The Walloon city of Liège, on the Meuse River near the eastern border with Germany, is famed as one of Europe's first industrial cities and the (possible) 8th century birthplace of Charlemagne—and also as a hub for Thalys and InterCity Express trains between France and Germany.