Map of Austria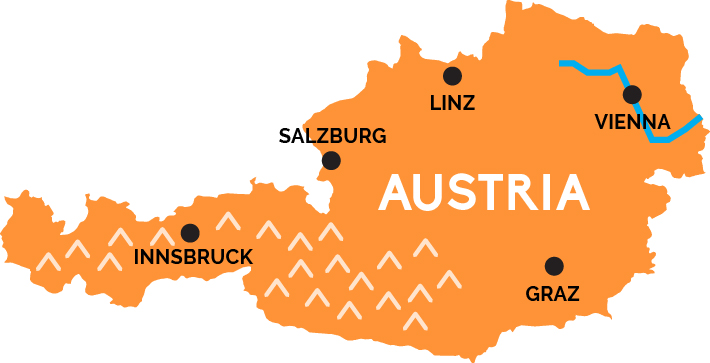 An Alpine postcard of cut-glass peaks and baroque towers, ski resorts and classical composers, where Teutonic central Europe meets the Slavic east.
Although its westernmost tip kisses the shores of Lake Constance on the border with Switzerland and southern Germany, Austria is an overwhelmingly mountainous country. Amid panoramas of skyscraping Tyrolean Alps sandwiched between Italy and Bavaria sit the ski resorts of Kitzbühel and St. Anton and the delightful medieval city of Innsbruck.
Just to the east, in the Eastern Alps, lies Mozart's hometown of Salzburg, all fairytale baroque spires and Sound of Music tours. The Slavic-inflected university town of Graz is the main city amid the Alpine forests of Styria, in Austria's southeast, bordered by Slovenia and Hungary.
The transport hub of Linz straddles the Danube River near the Czech border, and Danube river flows through its broad valley across northeast Austria toward Slovakia, passing right through the Austrian capital of Vienna, a genteel city of broad boulevards, elegant cafes, Strauss waltzes, top museums, and Hapsburg palaces.