All About Belgium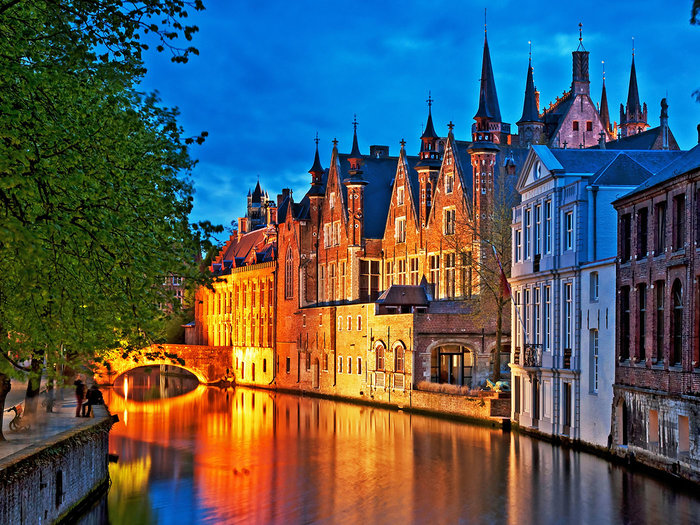 Belgium lies at the center of modern Europe—and not just because it is home to much of the bureaucratic machinery of the European Union, or because Brussels Midi/Zuid is the turnstile rail station for the superfast Eurostar trains connecting Europe's major cities.
Belgium: A Battleground and a Land Divided
Wedged between Germany, France, and The Netherlands, Belgium has long been the crossroads—and battlefield—of Europe, where great armies have clashed from Waterloo to Flanders' Fields to the Battle of the Bulge—though today the forested mountains of the Ardennes are better known for their countryside hikes. As tiny as it is—smaller than Maryland—Belgium remains a land divided, the Dutch-speaking Flanders region in the north and French-speaking Wallonia to the south operating with increasing independence.
The Attractions of Belgium
This amalgamation of traditions—and Belgium's historically strategic political and economic position—has also resulted in a rich cultural influence far greater than its size would suggest. After all, this is the country that, name notwithstanding, invented French fries—and helped perfect everything from chocolate to waffles to mussels, all of it washed down by ales brewed by Trappist monks.
Belgium's fine arts museums and gothic cathedrals are decorated by homegrown talents like Peter Paul Rubens, Van Dyck, Van Eyck, and Magritte. Bruges is the Venice of the Low Countries, a postcard pretty little city laced with canals. Gorgeous 16th and 17th century town halls and guild houses line the streets of the Antwerp—in its heyday the richest city in Europe—and the Grand-Place of Brussels, a cityscape that mixes modern functional with 17th century and Art Nouveau.
When to Go to Belgium: A mild and temperate country, Belgium's tourist season stretches from early spring to late fall.

Like most things in multilingual Belgium, the National Railway Company of Belgium goes by many names: in Dutch: Nationale Maatschappij der Belgische Spoorwegen, in French Société nationale des chemins de fer belges, and in German Nationale Gesellschaft der Belgischen Eisenbahnen. Its…
Read More