Map of Switzerland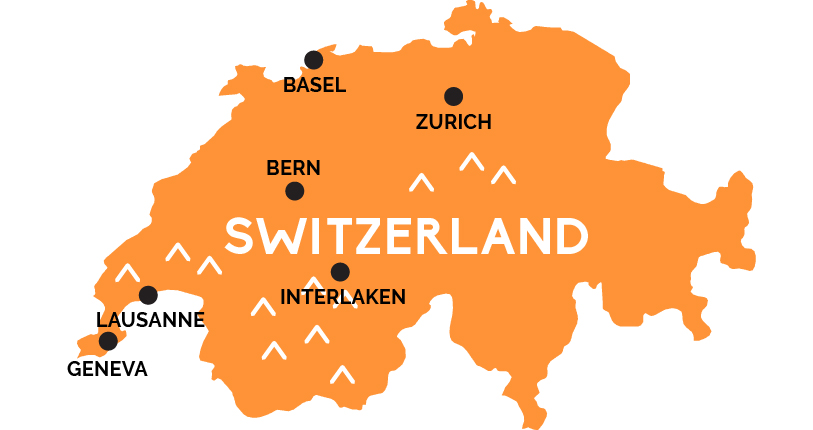 A land of chocolate, pocket knives, neutrality, private bank accounts, and the mighty, glacier-clad peaks of the Alps.Switzerland is famously a land divided by four languages: French in the west, Swiss German in the central and eastern part of the country, Italian in parts of the south, and Romansch, a vestigial Latin dialect spoken in some remote valleys.
Switzerland is also famous for the Alps stretching along its southern border from France across Italy to Austria and Liechtenstein. Many of the Alps' most jaw-dropping vistas are linked by some of the most spectacular scenic rail lines in the world. The mountains are laced with summer hiking trails, and its chalet-sprinkled villages fuel the shushing dreams of skiers from chic Zermatt to earthy Grindelwald beneath the Jungfrau, site of Europe's highest train station. But the Alps only cover the southeastern half of this mountainous nation.
The northwest is home to the Swiss Plateau—still high, still hemmed by mountains (particularly the Jura chain forming the northwest border with France)—but riddled with lakes, sluiced by rivers, and scattered with the great cities that have grown beside them: Geneva, right at the French border at the western end of Lake Geneva (Lac Léman); Zurich on its own lake near the northeastern border with Germany; and the arts capital of Basel, wedged into the northern spot where France and Germany meet along the Rhine River. Then there's the smallest of the big cities, the Swiss capital of Bern, a tidy town along a tight bend in the swift Aare River that's perfectly sited in the center of a triangle formed by the other big cities (plus Interlaken, gateway to the heart of the Alps).
There are several towns that frequently serve as rail transfer stations—particularly Brig and Spiez in the west, Chur and Andermatt in the east—as well as Lausanne on the vineyard-striped north shores of Lake Geneva, and pretty Lucerne (Luzern), on its lake between Zurich, Bern, and Interlaken.